Two Of A Kind!
Posted by: boni
I don't know
Jacqui Robbins
personally. But we've become online friends and one of these days our paths will cross in Real Life and I will be able to tell her, in person, how much I enjoy her blog. It's hilarious!
Which is kind of weird, and I'll tell you why. I read her
blog
and struck up this online friendship before I'd ever read her book
The New Girl...And Me
. Our library didn't have it. And by the time I got it on inter-library loan, I was already won over by her wacky sense of humor and wild perspective on writing and life. So when I first read her book, I was expecting over-the-top hilarity- and I didn't get it. Her book was not what I expected at all! It's a sweet story, though not overly-so, and unique, and RIDICULOUSLY well-written, with subtle humor, which just isn't what I was ready for.
Since then, I've discovered other writers who don't write books like their personality suggests they would and I think I'm no longer thrown by it when it happens- but that's what I think of when Jacqui Robbins comes to mind. Which she did today, because it's her Release Day for her next book!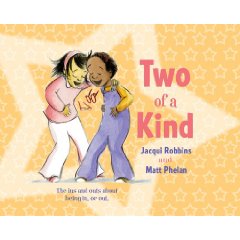 I haven't got my copy yet, but I can't wait to read it!! Congrats Jacqui!
:)